Principal Message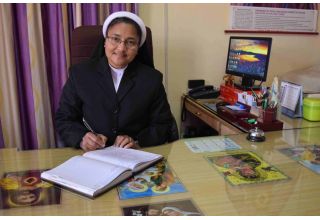 Sr. Rosilin

Welcome to Mount Carmel School Bhunga. Our school is a learning community where management, staff, parents and all stakeholders work together with one goal in mind. That is to give a comprehensive education to the young children with active and creative minds; so that they may take their productive place in the society and emerge as leaders in the global community.We keep students' needs and their all-round development as our priority.
The curriculum emphasizes children's early learning and development. We give special attention to develop their problem-solving abilities and critical thinking. The management and staff strongly believe that 'All Can Learn' and there for the visionary management and the dedicated staff work together to achieve this goal. As responsible educators, we are committed to make the child a competent learner, capable of making choices and decisions by actively learning in reciprocal relations with adults and other children.
At Mount Carmel, we are striving for excellence. We are not only preparing the students for excellent result but excellence beyond their school years. Knowing the fact that all children are individuals, unique in their abilities, from a rich diversity of backgrounds, beliefs and cultures; all are treated with respect, positive regard, and dignity.
Our motto is TRUTH LIBBERATES YOU. In this temple of learning we attempt to inculcate to promote and appreciate the common humanity by enabling them to acknowledge, respect and affirm diversity in order to promote equality and to challenge unfair discrimination; as well as enjoying an optimal environment for cognitive, emotional and social growth.
Social interaction, language, and scaffolding from adults are central in forming the child's mind. Children's development of both receptive and expressive language is integral to all development particularly intellectual functioning and later literacy. Mount Carmel gives emphasis for the language development of the children and provide a conducive environment for that.
Our school has an amazing playground where each child discovers his/her talents and strength. An array of events and activities fill up the Mount Carmel Calendar. There are amble opportunities for each child to explore themselves in creative, expressive and performing arts as well as sports activities. Their innovations also get encouragement in science exhibitions.
My message is meant to you beloved children, parents and my hardworking staff; our potentials are limitless when compared to the God given talents that we have. So, let us work harder to experience the fulfillment, to achieve our goal.